Prague
The Rundown:
Spent 5 days in the city, but you can easily see just about everything in 1-2 days
Visited at the end of July 2017
Public transportation is easy and safe-- make sure to validate your pass on the first ride
Stayed with a friend, check out her personal tips, here!
Czechs are all about making reservations so if you're dying to try a restaurant, call ahead!
For easy math while you're shopping 1 USD is about equal to 20 CZK
Prague is very affordable
Attractions:
Walking tour
There is so much unique history to Prague. I highly recommend taking a walking tour of the Old Town. There are a number of free tours offered by various companies. We were lucky enough to get a private tour from Myles, a friend of the friend that I was visiting, who works for Next City Tours. If you can catch one of his tours- DO IT! He is an amazing guide!
I can't spoil ALL of the incredible history that you'll get to learn on your tour, but there are a few fun facts that I can't help but to share:
Despite the number of beautiful churches sprinkled throughout the city, most modern day Czechs are atheist because of all the turmoil that religion created for hundreds of years.
Jan Hus, a Czech priest, is the man behind the teachings that influenced Martin Luther and the creation of the Protestant Church, which was over a century after his death.
Hitler planned to retire in Prague, so the city was spared from much of the WWII bombing.
The Czech Republic has a unique tradition called Name Day. There is an astronomical clock in the old square in Prague that holds a male and female name for each day of the year. When the name on the clock matches your name, it is like a second birthday--you even get the day off of work! Since WWII they took the name Adolf off of the clock, so there are only 364 male names. I adopted the name Markéta, but I just missed my July 13th name day during my visit. The clock was being restored during our visit.
At one point in history, Prague got rid of their alphanumeric address system and all the houses and buildings were identified by themes, such as The Three Musketeers... talk about confusing...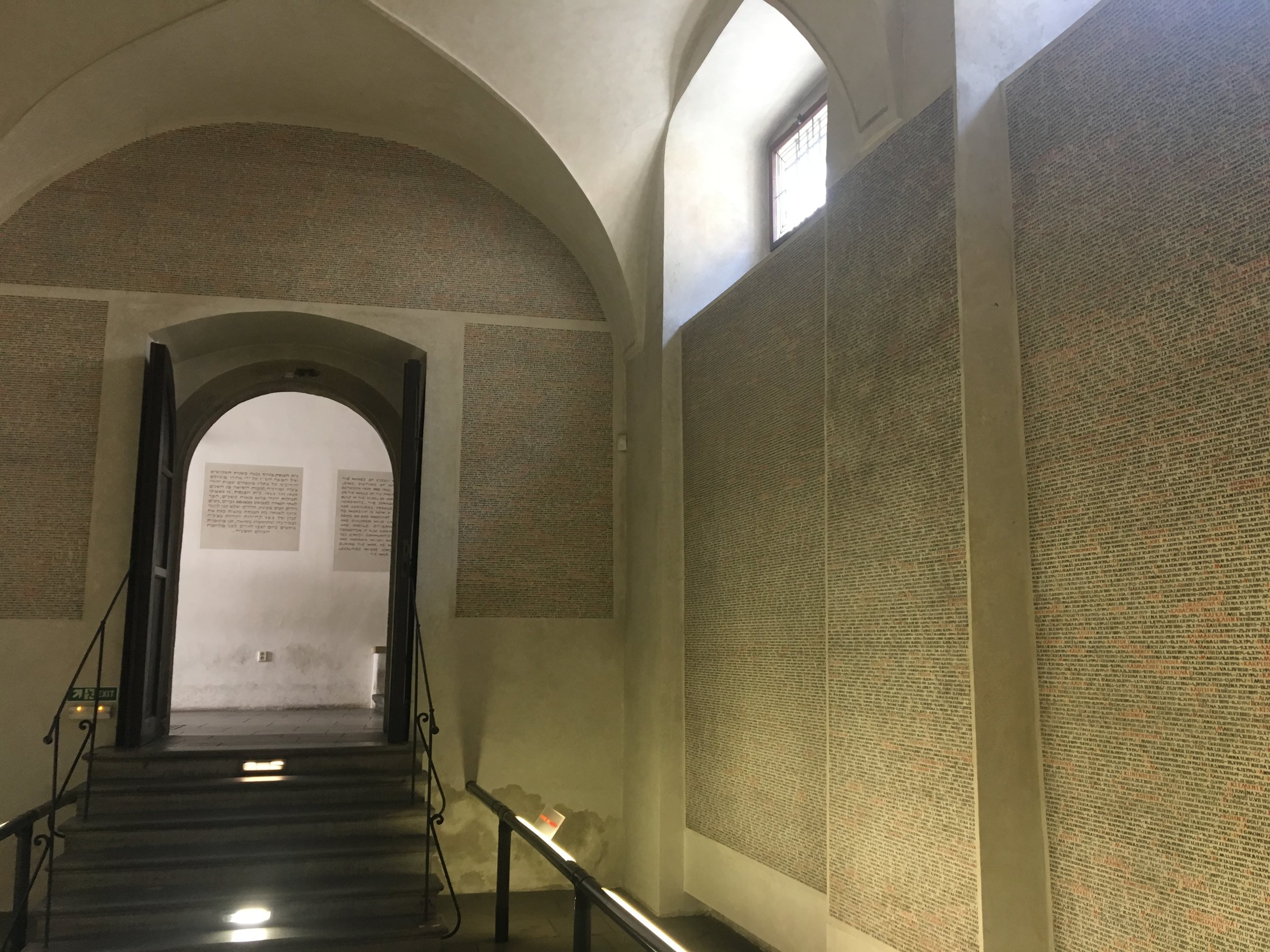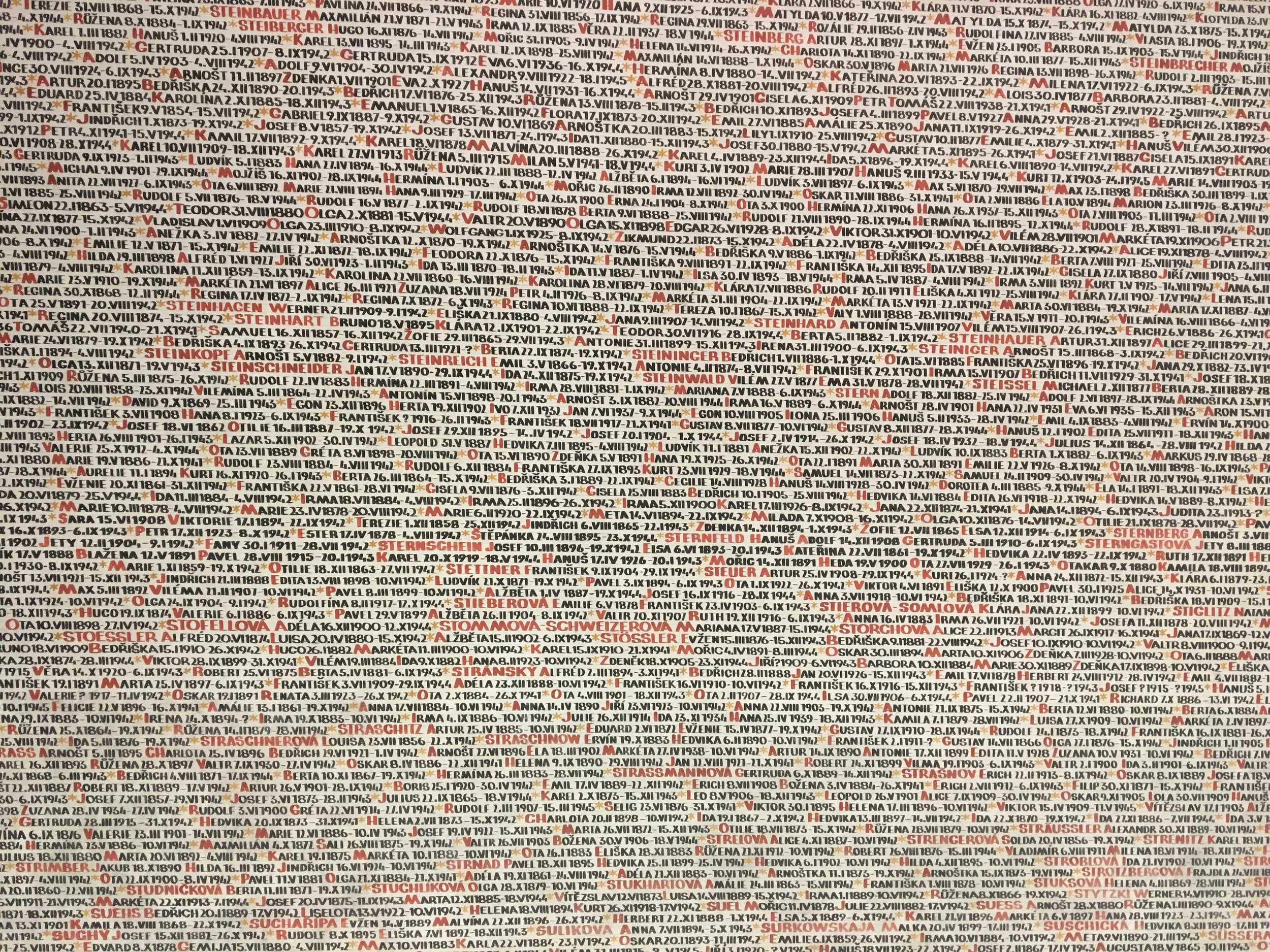 Jewish History:
The Jewish history in Prague was humbling. Our guide, Myles, shared a bit of the history with us as we passed by a couple of significant synagogues in the Jewish Quarter. He also encouraged us to visit the Jewish Museum and Old Jewish Cemetery on our own to learn more and be able to appreciate the extensive history.
Here are a few things to know about Prague's Jewish history:
When the first Jewish families arrived to Prague, they were given the part of the city that floods first when the Vltava River overflows.
Prague is home to Europe's oldest active synagogue, the Old-New Synagogue. If you're as curious about history as me, you can read more about it here!
The Pinkas Synagogue is Prague's second oldest surviving synagogue and now serves as the location of The Jewish Museum of Prague. The museum commemorates 77,297 Czech Holocaust victims by walls of hand-painted history. Categorized by last place of residence and detailed with names of family members, dates of birth, death or deportation, the inscribed names help to preserve the history of the persecuted Jewish Czechs. There is also a section of the museum dedicated to the children of the Holocaust who told their stories of home and life in the camps through drawings.
Next to the Pinkas synagogue, the Old Jewish Cemetery is home to headstones that are unusually close and strangely angled. The reason for this unusual burial practice was because the synagogue was denied the necessary land to expand the cemetery. They were only able to buy limited extra space very few times. As a result, the new graves were built on top of the old ones. It is believed that some parts of the cemetery are 12-14 bodies deep.
To visit the Old-New Synagogue, the Pinkas Synagogue and the Old Jewish Cemetery you can purchase tickets online here , or buy them on the premises. You can choose to visit certain sections or elect to visit the whole compound. The ticket to see everything costs about $24 for adults.
The Castle:
The castle sits up on a hill overlooking Prague, so you'll probably want to take the 22 tram up to Pražský hrad, which drops you off at about a 3 minute walk away from the "2nd Courtyard" of the castle. You can check out a couple other entrance options here.
To experience the castle you have a few options: you can select a guided tour, purchase simple entrance ticket, or just explore the grounds on your own. As uninformed tourists, we decided purchase the "Circuit A" tickets. The $16 ticket gave us access to St. Vitus Cathedral, Old Royal Palace, St. George's Basilica, the Golden Lane and a few other places. You can find all the ticket options here.
What we didn't realize is that you don't have to pay admission if you would like to just walk around the grounds. If you aren't a history buff, you can simply spend a nice afternoon strolling along the cobblestone walkways and appreciating the various types of architectural designs from the square. If you do decide to buy a ticket, don't miss the Golden Lane! You'll find petit, yet colorful dwellings that look like they are straight out of a fairy tale.
If you're looking to cool off with a beverage, there is a little cafe that overlooks a gorgeous slope of old vines. Those vines are part of Saint Wenceslas Vineyard, which is claimed to be the oldest vineyard in Bohemia.
I personally enjoy learning about history, so I thought the entrance ticket was worth it. Not to mention, there are killer views from the proper palace's balcony. My travel buddy and I enjoyed walking around the fortress grounds and taking time to appreciate the hundreds of years of history that surrounded us. My favorite moment of our visit was when the air was suddenly filled with music by a violinist in the street on the other side of the castle wall. We sat on the wall overlooking the musician, rested our feet and listened to the beautiful melodies.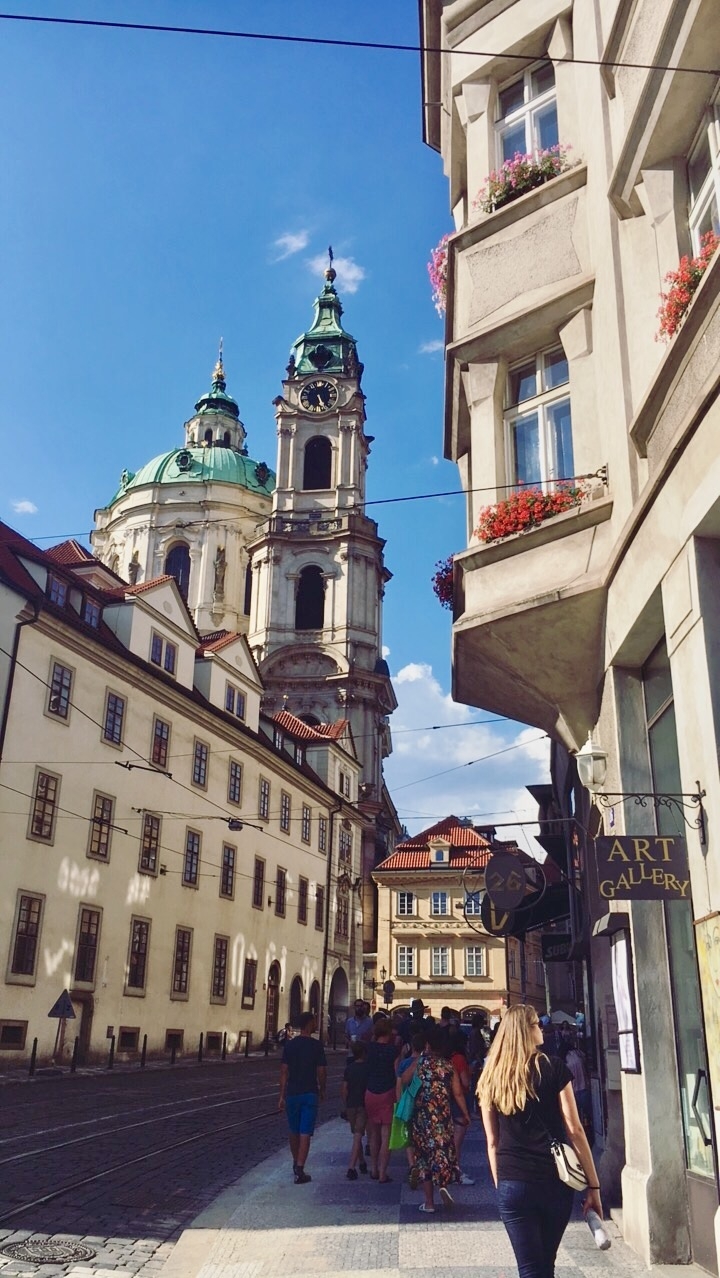 GO EXPLORE / Find a beer garden:
I recommend taking time to just walk around aimlessly and pop into the places that draw your attention. I enjoyed doing just that one afternoon. My travel buddy and I came across sculptures by the river, art stores under the Charles Bridge, vibrant flower shops, more colorful facades and even a breathtaking sunset.
While wandering is good for the soul, advice from the locals takes you to some pretty cool parts of the city. My friend showed us a few places that I would have had trouble finding on my own. I certainly loved having her local perspective and navigation skills. She brought us to Reigrovy Sady on our first night to enjoy some local beers and watch the city turn gold as the sun set. Later in the week, we met up with some of her friends at Letna beer garden which also had an amazing view of the city and the bridges that cross the Vltava River. It was so hot that some mid-day beers/ciders were necessary to cool off. I highly recommend visiting both!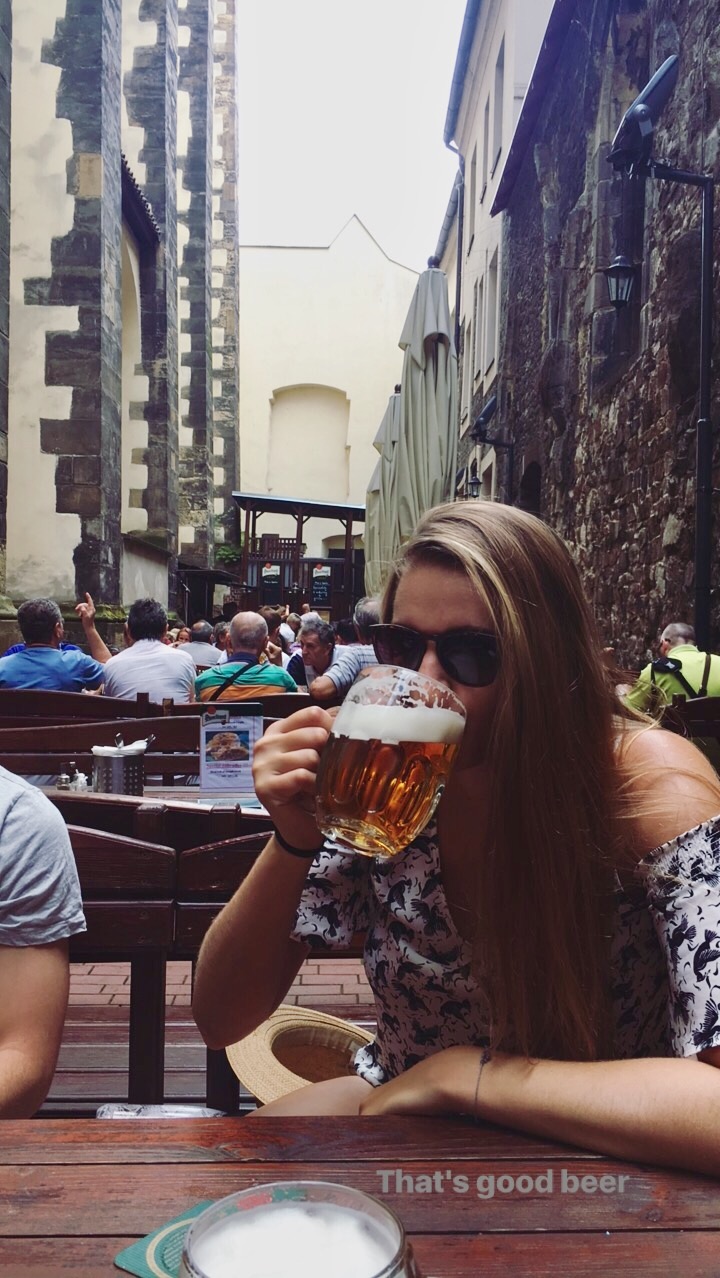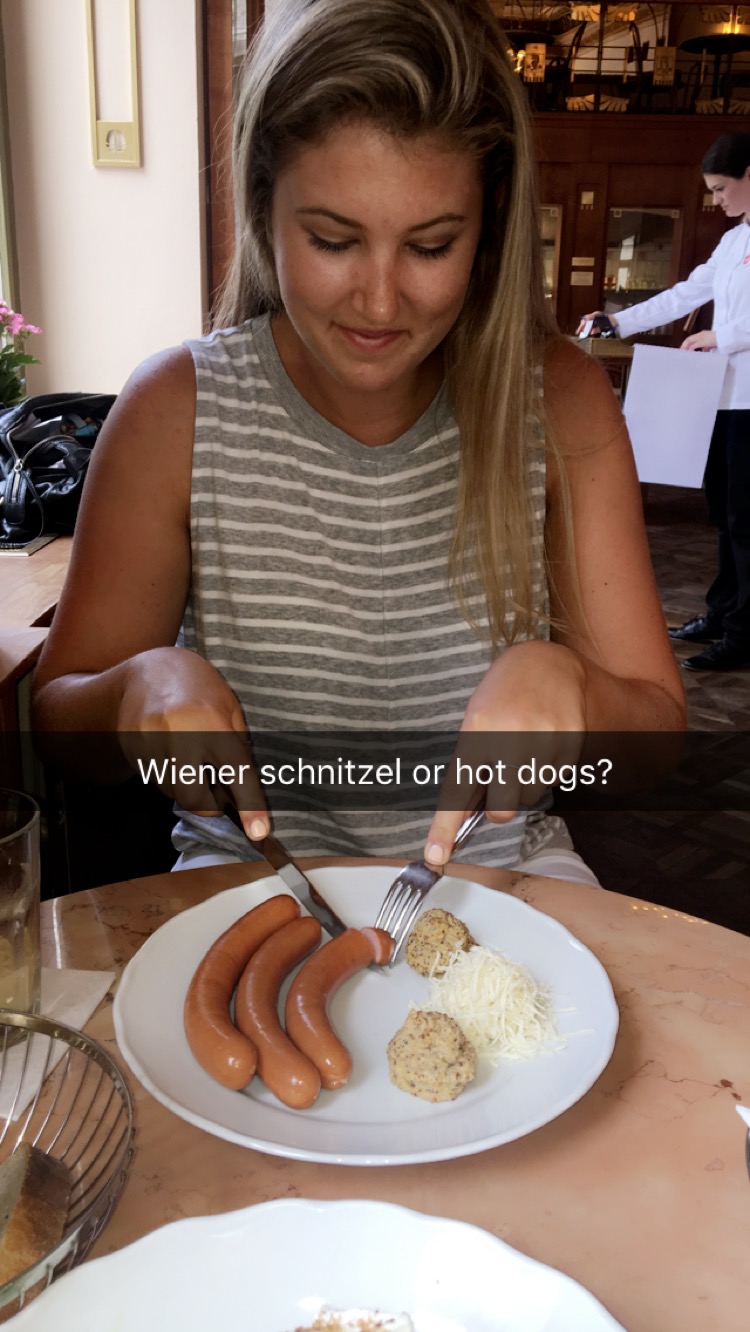 Food:
Finding places to eat in Prague ended up being straight up comical. I am not sure if it was just my luck, but just about every time I set my sights on a particular restaurant it was either closed or impossible to find. Luckily, there was always an alternative right around the corner & plenty of trdelník to snack on in between meals!
Despite our bad luck with finding places, we looked up the Michelin Guide to see which restaurants made the runner-up list. Restaurants with a head-nod from the Michelin critics are usually slightly more affordable and less crowded than those with stars.
We came across Na Kopci, a quaint place in the hills that serves French and Czech cuisine. I called to make sure they were open and we lucked out with a same day reservation. I learned that the Czechs are all about making reservations. So if you're dying to try a trendy place, make a reservation to ensure you get a table!
The food at Na Kopci was AMAZING. It was my favorite meal of the trip! I still talk about the pork cheeks that I ate here-- my mouth is watering as I type this. We ordered a nice bottle of french wine, started with the chef's sampler, each had an entree and the bill was about $100 total for the three of us. Where I live in DC, a similar meal would easily be double to triple so it was fun to enjoy fine dining for less.
After a day of touring the city on foot we took a break at U Pinkasů, the longest continually-serving Pilsner Urquell pub in Prague. During the summer they have a biergarten open out back that is surrounded by old gothic brick walls. The cold beer was a nice refresher and paired nicely with our first traditional Czech meal. We shared the Pinkas beef goulash with bread dumplings and Svíčková, which is beef in cream sauce served with cranberries and bread dumplings. Both of which I'd categorize as comfort food.
In a search for "really good pizza" in Prague to fulfill a craving, I once again couldn't find any of the places I looked up. We stumbled across CafeCafe where I enjoyed a tasty goat cheese salad and chicken salad toast. The service was extremely sub-par to American standards, but seemed normal for Prague. Not sure that I'd add this one to your 'must eat' list, but if you find yourself wandering for food at an off time like I was you, won't be disappointed.
Kolonial was the one place that I'd say to stay away from. It definitely caters to American tourists with its decor, 90s music videos on loop, and menu. The nachos, chicken wings, and chicken sandwich we all fairly mediocre. I usually stay away from places like this during my travels, but after being shut down at our first two restaurants and not being in the mood for a heavy Czech meal we settled for this joint.
Prague is known for its nightlife going into the wee hours of the morning. When thinking about where to get breakfast after a late night out or rather early morning in, Cafe Savoy is probably not the place to go. In a different state of mind, I think that I would really enjoy the offerings. However, the bad service and my churning stomach didn't make for the best experience. Things to think about when you're trying to fit everything in during your trip....
Speaking of a night out... you absolutely have to try a fried cheese sandwich from the stand in Wenseclas square before heading to bed.
Restaurants we missed:
SaSaZu was one of the restaurants that we showed up to that seemed to be closed. The menu is inspired by all sorts of Asian cooking techniques which had us pretty excited. It is located in the Holešovice Market a little outside the main part of town. We walked the parameter of the building and tried to figure out how to get in, but all the doors were locked. When we called the following day they said they had been open. They made us think we were going crazy because we absolutely could not get in and the parking lot was empty... next time I guess.
La Finestra is a quaint little spot that specializes in meat dishes. Per a recommendation, we tried to get a late table at without a reservation, but it wasn't our lucky night. When I go back to Prague I would definitely make a reservation here.
If you're into the food scene, I came across this pretty cool food blog with more suggestions!
Sleep:
I stayed with a friend who lived right off the Flora metro stop. Her apartment was across from a Courtyard Marriott that looked pretty nice, but it was not very close to the main tourist parts of the city. If you're looking to stay in a place with a more local neighborhood feel, I really enjoyed Flora.
Transportation:
From the airport
Everything in Prague is pretty cheap, so if you want to 'splurge' on an Uber or a taxi to get from the airport to downtown, it will probably cost you $15-20 max! If you want to take public transportation into the city for $1.50 (24 kc.) here are directions:
There are two ways to purchase a one-way ticket:

Use the small ticketing machines next to the airport exit that require coins
Stop by the travel desk and purchase from attendant (we stopped by the desk)

Right outside the airport there is a bus stop
Take bus 119 to Nadrazi Veleslavin--the last stop on the route
When you get off look for the metro sign (or follow the crowds)
This stop is on the green line-- you can take it into the center of the city
** Stamp your ticket upon first use to validate it! On the bus you will see little yellow boxes that you can slip your ticket into.
Public Transportation
If you plan on using public transportation you can buy a 1-day pass or a 3-day pass from the permanent vendors in the metro station or from the smaller metal ticking machines that take coins. A 3-day pass costs about $15 and includes metro, tram, and bus! Again, make sure you stamp your pass the first time you use it. You'll find the yellow validation boxes in the metro station at the top of the escalators. The boxes stamp the date on your ticket. Unlike many of the metro systems in the United States, you don't have to swipe your card every time you use the metro. There are police that randomly check tickets to keep the riders honest. From what I have read, getting caught without a ticket or a validated ticket doesn't result in an outrageous fine, but simply avoid the headache of that potential situation and buy and validate the ticket.
This metro map will help you plan your stops! If you haven't used a metro system before, Prague is a great place to try it for the first time because it is a fairly small system. There are only three lines: red, yellow, and green. Like most metro systems, the trains are labeled based on the line's last stop each way. Trains came every 2-5 minutes while I was there.
Uber
I used Uber a few times when we were in more of a time crunch or when the destination wasn't super close to a metro stop. The app automatically adjusts to the country you're in, just make sure you have enough data to use it on the phone plan you select!
Walk
We also did a lot of walking in the city. Most of the main tourist attractions are within walking distance of each other. Prague is also a pretty safe place at night, but you should always have your wits about you no matter what city you're visiting.
Budget:
Prague is an incredibly affordable place to vacation. I created an rough expense report of what I spent while I was there (see below). As you can see without the flight, I spent about $500 in five days which included eating out for every meal, drinks at night, attractions, and transportation. I was slightly frivolous with my money while I was there, but I thought it was still a pretty reasonable tab. Realizing everyone works with different vacation budgets, Prague is great because it gives you the opportunity to be frugal, but it also offers a high-end experience without having to completely break the bank.
I exchanged 200 USD for Czech Korunas before leaving for the trip. I didn't need to get any more cash during my visit.
Packing Essentials:
Day bag- I brought a cross body purse to carry during the day, which was perfect for all that I needed.
Comfortable walking shoes- You'll probably end up doing a lot of walking with how much cool history there is to see and learn about in Prague. Do yourself a favor and pack those comfy shoes, even if they are just backup to the cute shoes you'll probably try to rock the first day!
Refillable water bottle- It is HOT in Prague during the summer-- you'll be thirsty. I found random fountains to fill up my water for free. Tap water is okay to drink in Prague!
Phone Plan- At the time of this trip my provider had 3 different travel plan options. The one I decided to purchase allowed me to use my phone like normal, even though I was abroad for $10/day. There were other less expensive options. If you plan to use any cellular data or make phone calls while you're traveling in different countries make sure to call your provider to let them know, otherwise your phone won't work unless it is on wifi.
When I go back:
I feel like I got to experience most of what Prague has to offer thanks to my local tour guide/friend. If I go back, I'd like to take a day trip outside the city to see more of how the locals live.
Tip From a Local:
If you're looking to learn more about Prague, check out these tips from my local friend, Tess!
Please feel free to ask questions or leave comments about your experience in Prague! I'd love to hear from you!