Iceland
The Rundown:
Spent 5 days/ 5 nights in Iceland-- 4 nights camping, 1 night at an Airbnb in Reykjavik
Trip took place the first week of August 2017
The only thing we booked before landing at Keflavik International Airport (KEF) was a rental car
Used Turo to rent a Jeep that we were able sleep in- good 'ol Ruby had a 'sleeper mode' to keep us warm during the night
Decided to drive around the whole island on a whim-- booked unlimited miles on our rental car
We only had two bucket list items prior to our visit: visit the black sand beach and snorkel between the North American and Eurasian continental plates
We found geysers, hikes, waterfalls, craters, lagoons and mountains along the Ring Road
I still don't know how to pronounce all the places I visited
For rough math while you're shopping, 1 USD is just about 100 Icelandic Króna
Like most European countries, tipping isn't common
Iceland is expensive
Attractions:
The adventurer within you will love Iceland. The inner geography nerd in me is still fascinated. Feel free to skim this section. I have broken it up into Unique Stops, The Lagoons, The Beaches, The Waterfalls, and Hikes.
Unique Stops:
SILFRA SNORKELING
Located in Þingvellir National Park, 35 minutes from Reykjavik
Booked excursion through Arctic Adventures for $155
Only place in the world where you can snorkel or dive between two continental plates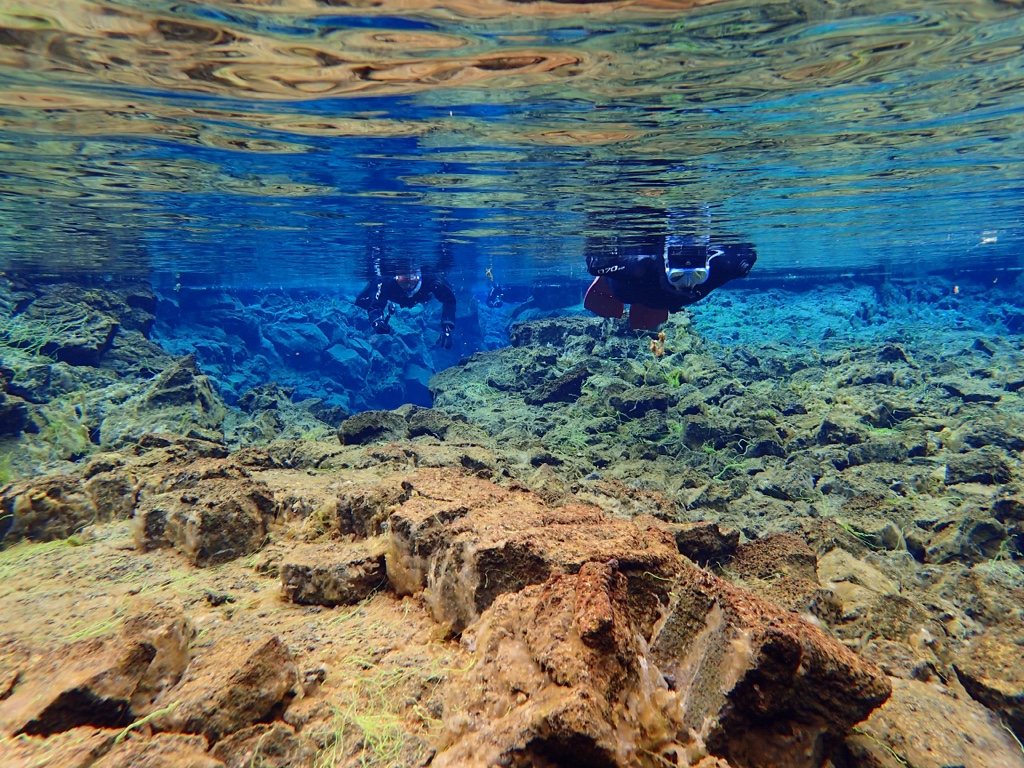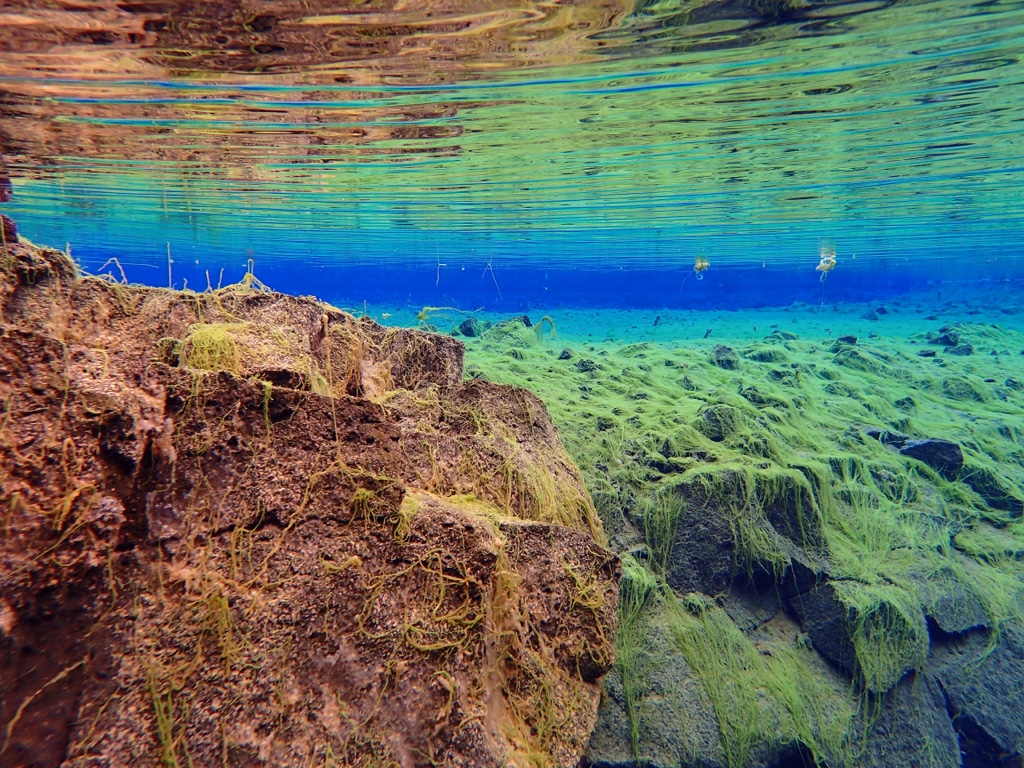 My favorite experience in Iceland was the Silfra snorkeling excursion. This is the only place in the world where you can dive or snorkel between two continental plates- you don't have to be a geography nerd like me to appreciate how cool that is!
Silfra is a rift, or a crack, caused by the North American and Eurasian continental plates moving apart from each other. These plates move quite quickly in geologic terms. They currently diverge about 2 cm per year, roughly the same rate that your nails grow in a year.
The Silfra rift is located in Þingvallavatn Lake within Þingvellir National Park, about 35 minutes outside of Reykjavik. Þingvallavatn or "Lake of the Parliament" earns it's name as it is home to the world's oldest parliament, Alþingi. The Icelandic government held its sessions near the lake from its founding in 930 until 1799. Their meeting place since moved to Reykjavik. Þingvellir National Park was declared a UNESCO World Heritage Site for its historical significance and geological uniqueness.
Þingvallavatn is fed by a natural spring which creates a current. The flow of water keeps the lake from freezing, so you can snorkel here any time of the year. However, the water is quite frigid all year round. It remains somewhere around 2°C (~35°F) because of the glacial water that is constantly pumped from the spring. Since the water filters through porous volcanic rocks for 30-100 years before reaching the lake it is extremely pure. It was the clearest water I have ever been in and most likely the cleanest water I've ever sipped. If you get water in your snorkel it is encouraged just to drink it!
You're probably wondering how anyone would choose to go into such chilly water... I'm here to tell you they made a special wet suit for that and Arctic Adventures is there to outfit you! The way it works is that you wear a thin base layer beneath a special neoprene suit that keeps the inside dry. The arms and neck are designed to create a seal between the suit and your skin. You also get a hood and gloves to keep your extremities warm as well as flippers and a snorkel to complete the outfit.
When you enter the water, the natural buoyancy of the suit lifts you right to the surface and you can rest your hands on your back to keep them out of the water. Then, you can just let the current push you along while you gaze at the amazing colors and savor the short time you're spending just floating between two continental plates. Fair warning -- the first couple minutes are brutal as your face adjusts to the temperature of the water and numbs, but after that you don't really even notice the cold.
The total time spent in the water is 20-30 minutes, which is the time frame they have found that most bodies can comfortably handle the chilling temperature. After about 20 minutes of floating down the main rift you'll turn a corner and arrive at a lagoon that is the most beautiful color blue. Once you make the turn, the guides allow you to explore on your own because you are out of the current zone. You can venture around the shallow pool, another rift, or you can just gaze at the amazing colors created by the algae and "troll hair." It is pretty much impossible to swim underwater while snorkeling in the dry suits because they are so buoyant-- trust me when I say I tried. Even though I had a slight leak at the neck of my suit from goofing around for pictures, I was the last one from our group to get out. I was probably in the water around 35 minutes.
We brought a GoPro to take videos of our underwater adventure. We also bought the photos that the guides took of us during the excursion for $20, just to be safe. A few of the underwater photos shown above were taken by our guides.
There are diving excursions available, but you have to be "dry suit certified." Arctic Adventures is not the only company that offers excursions, but we really enjoyed our guides and the experiences!
VESTRAHORN
Located in East Iceland, 5 hours 40 minutes from Reykjavik
$8 entrance fee paid at the Viking Cafe
Most photographed mountain in Iceland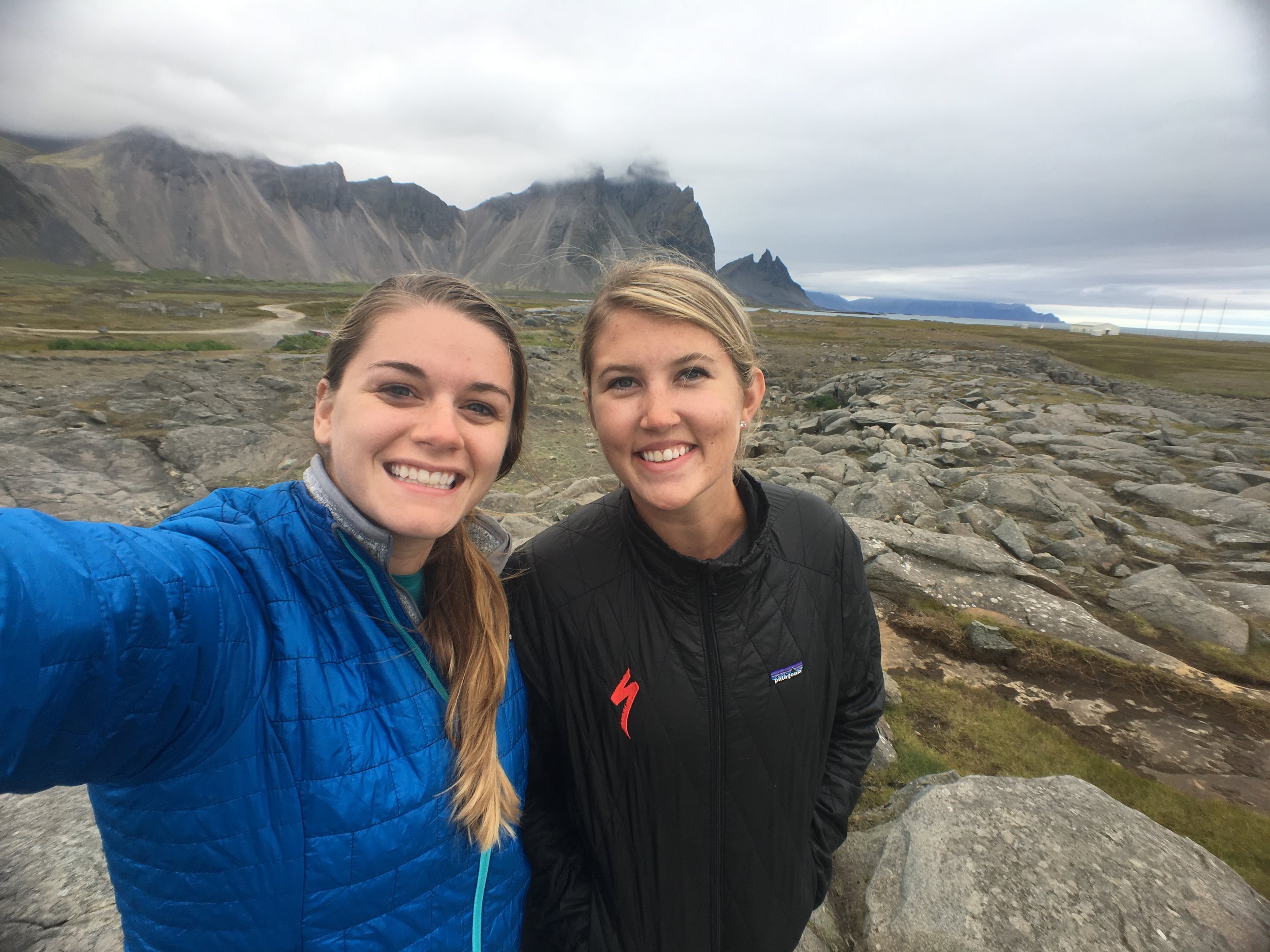 We rented a wifi hotspot with our car so we could do research and get directions while we were driving in isolated areas. While we were driving and researching what to do in East Iceland we came across Vestrahorn on the Stokksnes peninsula. The dramatic landscape grabbed our attention.
We didn't have the easiest time finding the entrance even through the mountains are hard to miss. If you're driving East from the glacial lagoon or Höfn you will approach a tunnel. Right before that tunnel you'll see an unmarked dirt road, turn here. When you turn in, you'll drive along beautiful horse pastures for a couple miles before you reach the Viking Cafe. Be sure to go in and pay the $8 fee before trying to see anything when you arrive. From my research it sounds like the fee isn't quite legal, but the government doesn't seem to care to stop it, so the easiest thing to do is just pay it. We were two of only a few visitors, so this is a great location to add to your trip if you're looking to enjoy Iceland's beauty without the crowds.
The dramatic features and location of the Stokksnes peninsula have attracted many over the years to create an interesting history. The first thing you will see when you park outside the Viking Cafe is a wood statue of a viking on top of the hill next to the parking lot. On the other side of the hill you can spot a viking village in the distance. This village was put up for a film that never ended up being shot and was left for tourists to explore. More significantly, this peninsula is where Iceland's first settlers landed before they were later enslaved by viking invaders. Additionally, the peninsula was used as a base by the the British Army during World War II. Later, NATO set up a radar at the southernmost point.
When you drive out toward the water you will see the radar station and a lighthouse. You'll also find remnants of metal fences and other miscellaneous wartime leftovers hidden in the landscape. To get out to the point you can drive on a very bumpy, sandy road. Stay on the road. We tried to pull over slightly here to take a picture and almost got our 4x4 Jeep stuck in the sand. We also saw a few people riding horses along the beach. After an... interesting.... horseback riding experience in Peru last year we decided to see everything by foot.
When you make it out to the point and turn around, you'll be speechless when you look out at the nearly 1500 ft mountains growing vertically out of the flat black beach. It is breathtaking. The beautiful black sand dunes surrounding the beach are contrasted by bright green sea grass popping out in patches. We visited during the summer so wild flowers decorated the landscape, adding even more color to the picturesque view. If you look to the right of the mountains from the point you will see three jagged peaks that have suitably been given the nickname, "Batman mountain."
We walked along the beach and enjoyed the beauty of our surroundings. The sand was much finer than the sand at Reynisfjara, a popular beach in southern Iceland. The weather during our visit was pretty mild, not too cold or windy. Luckily we didn't have to worry about getting blasted by the sand. I have read that on a windy day you should be prepared for the fine sand to be blown at you.
I strongly suggest stopping here if you decide to make a trip around the island! It isn't the most photographed mountain in Iceland for no reason!
MYVATN PSEUDOCRATERS
Located in Northern Iceland, 5 hours 45 minutes from Reykjavik
Only other place in the world where you'll find these craters is in Hawaii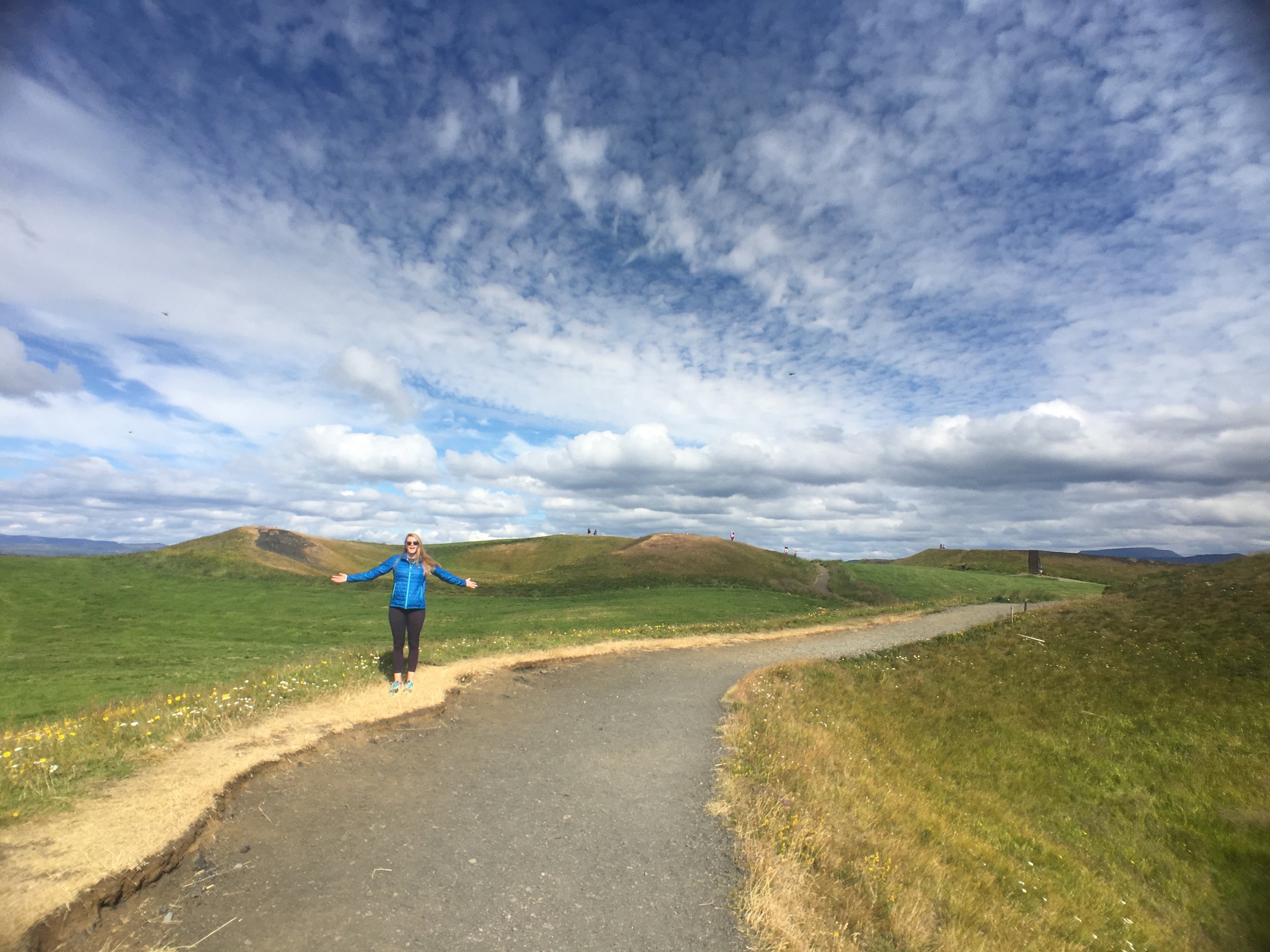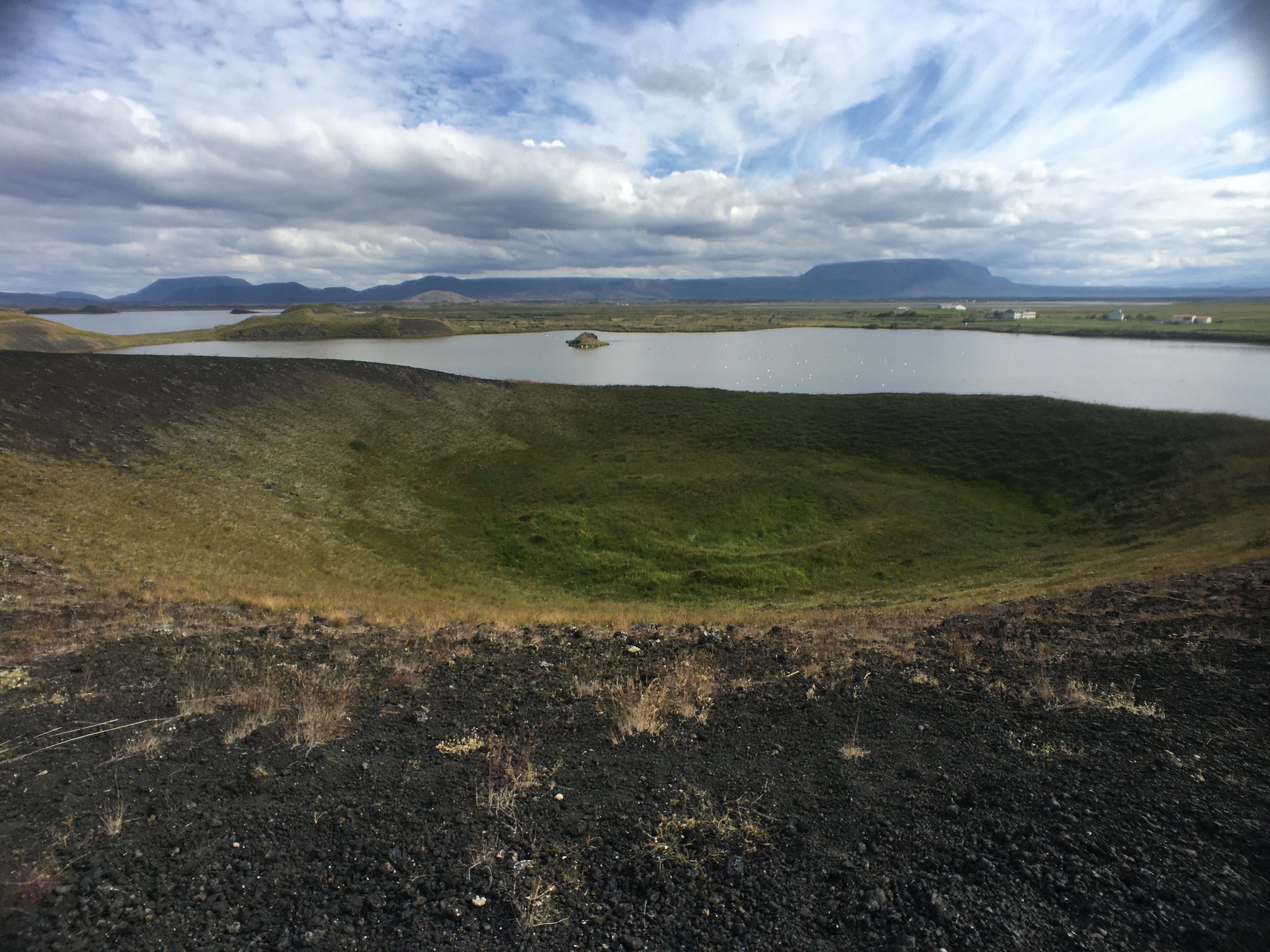 So many bugs. That is the first thing I have to say about this stop. I'm not even sure bug spray would help. Other than that, these craters are pretty cool. The only other place in the world where you will find a similiar feature is in Hawaii. The craters are formed by lava flowing over a body of water and trapping the water underneath. The water starts to boil due to the heat of the lava and bubbles up to create this crater looking formation. I personally enjoyed learning about the physical geography of the psuedocraters, but I totally understand that not all people get as excited about that as I do.
If you're looking for something with more pop culture significance, the Game of Thrones scene where Jon Snow is 'deflowered' is shot at Myvatn. There is pull off before you get to the craters where you can stop to walk to it.
GEYSIR
Found along the golden circle, about 1 hour 20 minutes northeast of Reykjavik
First known geyser to modern-day Europeans
Lots of tourists
Iceland has some interesting 'firsts' including Geysir, the first spouting hot spring known to modern Europeans. The English word geyser comes from Geysir, which was originally derived from, geysa, the Icelandic verb meaning "to rush." Geysir has been spouting water for over 800 years, but it erupts in random spurts. If you're lucky enough to witness Geysir thrust water up to 230 feet in the air, revel in it! Most visitors are mesmerized by the more reliable neighboring geyser, Strokkur, that spouts water 50-100 feet every 5-10 minutes.
Geysir, or The Great Geysir, is located in southwestern Iceland within the Haukadalur valley. You can find it along the golden circle. There were SO MANY TOURSITS here. It is definitely a cool phenomenon to watch, but it sort of felt like a Disney World experience. There is a large food hall as well as a shopping area where you'll find souvenirs and different outfitter brands, including Iceland's own 66° North.
THE LAGOONS
Mývatn Nature Baths are found about 5 hours and 45 minutes from Reykjavik in Northern Iceland
Entrance fee was $43 during the summer months
Keep your hair out of the water
Didn't visit the Blue Lagoon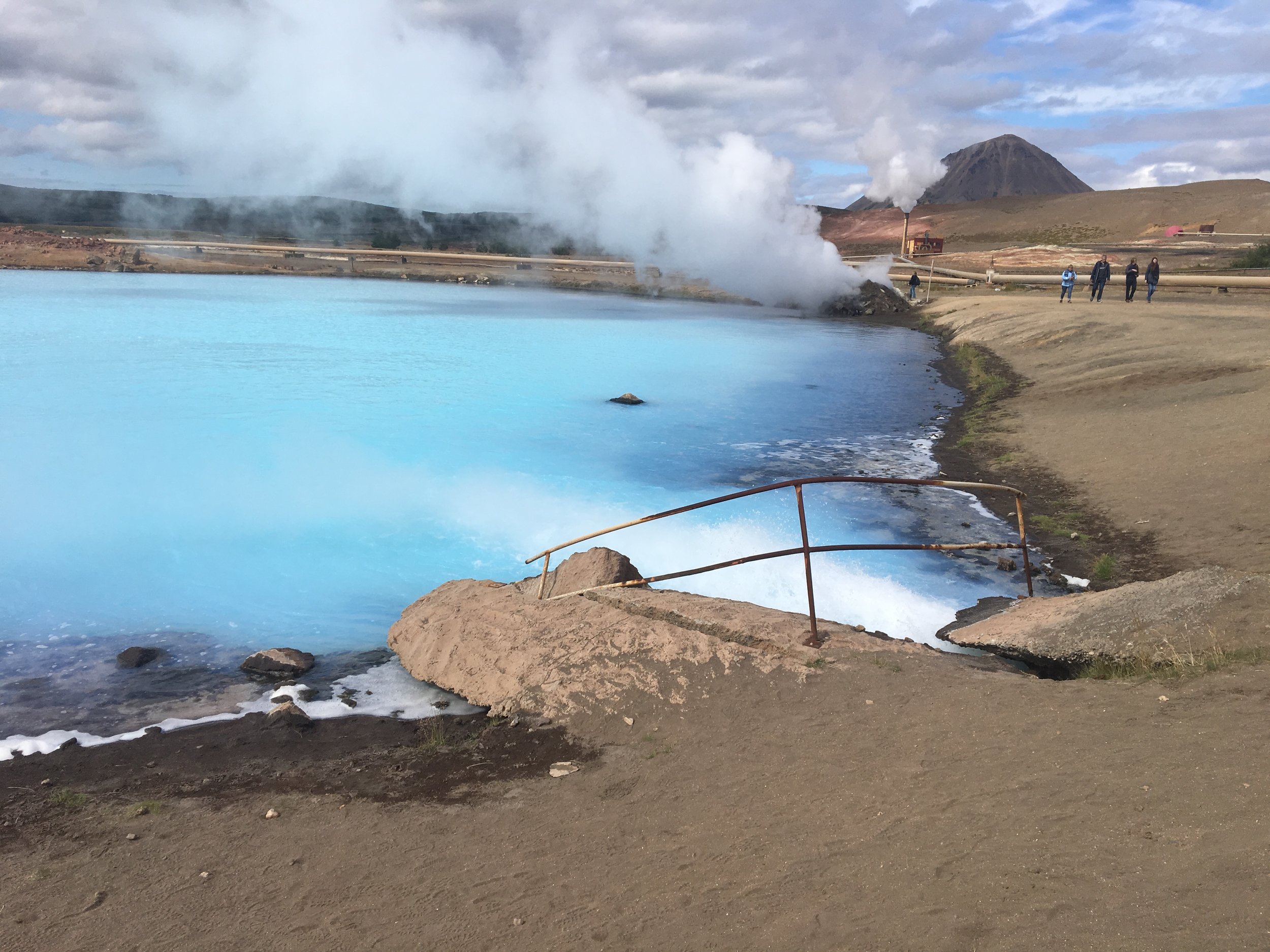 The Blue Lagoon is an obvious choice for most travelers due to its proximity to the airport and its popularity on social media. My friends on social media definitely intrigued me with the photos of face masks and frosty blue water, so I got to doing some research to figure out how it would fit into my trip. During my research, I came across another thermal bath in the northern part of Iceland, the Mývatn Nature Baths. All the articles I read boasted that they were more relaxing than the Blue Lagoon because they don't attract the same stopover crowd.
After driving through a part of Iceland that looked like Mars, we arrived at Lake Mývatn. On our way in we pulled off at the Namafjall geothermal area. It was fun to gaze at the bubbling pockets of earth and walk through the clouds of sulfuric steam. Since we hadn't showered for a few days and the scent of the sulfur stuck with us after leaving Namafjall, we decided that a stop at the Mývatn Nature Baths was a good idea. Admission is $43 for the summer months, and $38 during the rest of the year. We had our own towels from the camping kit we had as part of our car rental, but you can rent a towel for $7 and/or a robe for $15.
The pools were as quiet as advertised and incredibly relaxing. Unlike the Blue Lagoon, there is no swim up bar or spa, but there are beverages available. We relaxed in the large natural pools overlooking the valley, heated up in the natural hot tub, and sweated out toxins in the sauna before going to take our first shower of the trip. I'd recommend putting your hair up while you're in the baths. I let my hair soak in the water and even after I showered it had a skunk stench to it-- not ideal.
We had still planned to go to the Blue Lagoon on our last day, but since we already experienced the Mývatn Nature Baths we decided to hike rather than paying the lofty $69 for another thermal bath. If I go back to Iceland I would like to go to the Blue Lagoon so I can make a true comparison.
The Beaches:
The beaches were one of the two things on our Iceland "bucket list". If you've done any other research about a trip to Iceland you've most likely seen pictures of the unique basaltic stacks along the black sand beach and photos of the beach that looks like it is covered in diamonds.
THE BLACK SAND BEACH
Located in southern Iceland, about 2 hours and 20 minutes from Reykjavik
No entrance fee
Black sand is made of cooled lava
Based on advice from a local friend, we originally planned to drive the golden circle and make a separate trip to visit the black sand beach in southern Iceland with the time we had. After an early flight, the easy drive down toward Vík and the black sand beach was most appealing for our first Icelandic adventure.
A few kilometers before Reynisfjara, the most popular part of the black sand beach, we noticed many cars pulled off to the side and people walking to what looked like the end of the earth. We found out there was wreckage from an old naval plane that went down, but we decided not to walk 4 km there and 4km back to see it...
When we reached our first destination, we pulled up the little pathway and parked Ruby (what we named our red Jeep Rubicon) among the many other tourist's cars. We packed up some cheese and crackers to have a little picnic in the black sand. We watched the little puffins fly to and from their nests on the cliffs and listened to the water run soothingly over the small pebbles that make up the beach. It calmed my soul to close my eyes and listen to the waves hit the shore.
For those that are curious about the science behind the black sand, the beaches are actually a result of lava reaching the water and cooling upon contact. The basalt pebbles and cliffs found along the beach are a result of the cooled lava.
There are so many unique places to take photos here. The most popular places being Gardar and Reynisdrangar. Gardar is the wall of large, basalt columns that you can climb all over. Reynisdrangar are the jagged sea stacks that come out of the water to the west of the beach. These attractions have earned their popularity, but I encourage you to keep an artistic eye out as you walk by the other geometric formations along the beach.
DIAMOND BEACH AND GLACIAL LAGOON
Located in east Iceland, about 4 hours 45 minutes from Reykjavik
No entrance fee
Diamond beach is formed from glaciers flowing out of the lagoon and being pushed onto shore by the waves
Driving around the whole Island was a spontaneous decision. It wasn't until we were leaving Reynisfjara that we decided to keep going west toward Jökulsárlón Glacial Lagoon and the nearby beach that has aptly earned the nickname, "diamond beach". It doesn't get dark until late in the summer months in Iceland so we drove into the evening hours and found a place to pull off and sleep a few kilometers away from the glacial lagoon. I wanted to get up and take pictures at sunrise, but then realized that sunrise was at 4:30 am... needless to say that didn't happen.
We got so excited driving by the receding glaciers that we stopped at a couple of the pull off areas along the way. The best part of these short stops in the morning was that we were the only people there. It was just nature and us. Can't beat that feeling.
Upon arrival to the lagoon, there are a couple places to stop to sight-see. If you're driving east, you can pull off to the left and walk along the shore of the lagoon before crossing the bridge. We did this first because there weren't as many tourists walking around. Next we crossed the bridge and pulled into the visitor area that offered bathrooms, a cafe and even excursions. We didn't feel the need to bundle up and sit in a boat to see the icebergs since they were fun to watch float from the shore. But, if you're up for it you can do group tours and even kayak in the lagoon. In the winter they offer hikes up the glacier, which is on my bucket list when I return for a winter Iceland experience.
The lagoon is formed naturally from the glacial melt of Vatnajökull, Europe's largest glacier. The glacier and it's surrounding area make up Iceland's largest national park. It might sound weird, but it was humbling to stand in the presence of such a large mass. On top of that, if you think about the changing environment, you really have to take in the moment because if you ever return the lagoon will most likely look different.
Across Route 1 is the beach where you can see the icebergs drift out of the lagoon through a short waterway into the Atlantic Ocean. The crashing waves push the icebergs against the shore. As pieces of ice break off they are washed up onto the volcanic sand. It has been nicknamed, "diamond beach" since the ice pieces look like large jewels scattered along shore. Watching the waves through the ice is almost like watching them through a kaleidoscope. It is incredible. There was even a seal bobbing among the masses of ice-- so keep your eyes peeled!
The Waterfalls:
Rivers with incredible origins and hundreds of tributaries flow all over Iceland due to glacial melt. Along the journey the glacial water finds edges of earth to flow off of which creates beautiful waterfalls, many of which you'll find right off of the ring road. The waterfalls vary in height, but they are all incredible in their own unique way.
SELJALANDFOSS
Located in Southern Iceland about 1 hour 35 minutes from Reykjavik
Found on the way to the black sand beach
Pay for parking, no entrance fee
On our drive down South to the black beach we came across Seljalandsfoss, a waterfall just shy of 200 feet right off of Route 1. Be prepared with waterproof gear if you stop off here, we weren't. The water rushes off the cliff over a small cave. You can actually walk in the cave behind the waterfall to catch a glimpse of Iceland's vast landscape through the water. There are also steps to the left of the falls that you can climb up for a different view. Great photo op. Parking is $7. There is also a cafe for visitors.
WATERFALL OF THE GODS
Located in Northern Iceland, about 5 hour 15 minute drive from Reykjavik
No entrance fee
Looks like a mini Niagra Falls
In the Northeastern part of the island we came across Goðafoss, the "waterfall of the gods". I encourage you to look up the folklore about all the places you visit in Iceland-- it brings them to life.
The water of the Skjálfandafljót river falls about 40 feet to create what looks like a mini Niagara Falls. There are lookout points on either side of the falls, but you can also take the natural stairs down to a bank of rocks. I had so much fun climbing all over the rocks and getting as close to cascades as I could. There is also a little cafe at the pull-off which was great for some much needed caffeine.
Hikes:
I wish that we made more time for hikes, but the last minute decision to drive around the island in four days meant much of our sightseeing was by car. However, the two hikes we did make time for were memorable.
GLYMUR
Located about an hour North of Reykjavik
Wear proper hiking shoes
2nd tallest waterfall in Iceland, only by about 6 feet
3.5 hour round trip hike, can be cut short if neccessary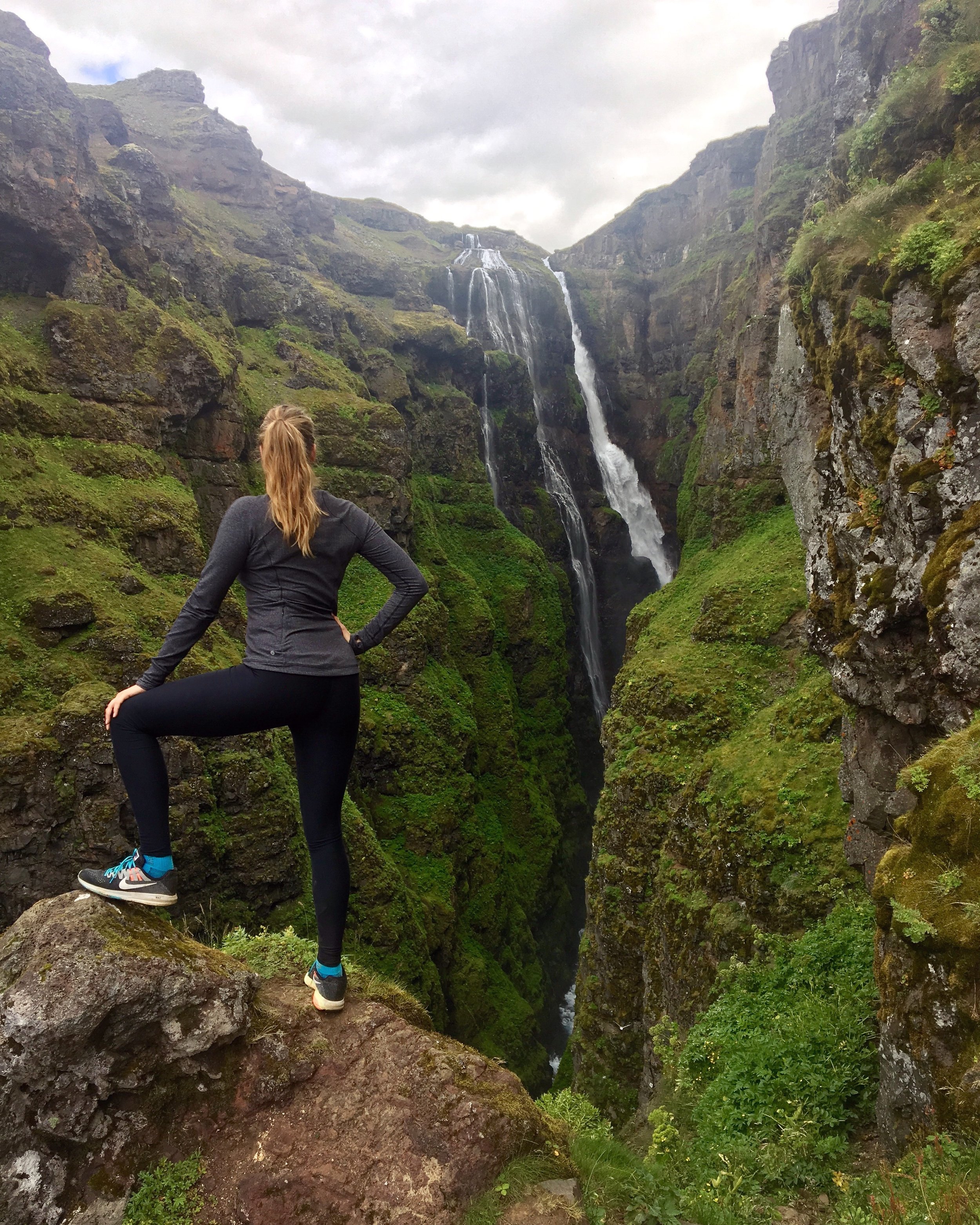 Glymur was my favorite. The trail is in west Iceland, only about an hour outside of Reykjavik. I am so glad that we made time for it on the morning of our last full day. We woke up early and arrived around 7:30 am. When we pulled in we were one of three cars in the parking lot. When we returned there were dozens of cars and campers. There aren't any bathrooms at the trail head so if you're coming from Reykjavik take care of business beforehand or be prepared to go in the bushes. The hiking signs advise you to wear proper hiking shoes, which I also recommend after my experience. I didn't take the advice and hiked in my Nike's, so on the hike down I was slipping all over because of my worn treads.
Beside the sliding, this trail was SO MUCH FUN. You climb through a cave, cross a river by rock-hopping and balancing along a log, and at the end you look out to Iceland's second highest waterfall at about 650 feet. It used to be the tallest until they recently discovered a new waterfall 6 feet taller.
There are multiple trails along the way, we took the South trail and got to a really good view mid canyon. The whole hike round trip is supposed to take 3-3.5 hours. We cut off an hour by turning around mid canyon to still have enough time for a half a day in Reykjavik. From my research, if you make it all the way you will probably want to wade through the river to get to the best vantage point. I believe the North trail was closed off due to conditions while we were there. I'd imagine that you will have a memorable experience no matter which trail you take!
GEOTHERMAL RIVER HIKE
Located about 35 minutes East of Reykjavik
1.5 hour round trip hike
No entrance fee
One of our guides from our snorkeling adventure recommended that we check out Hveragerdi, which is a geothermal park. A 45 minute hike will lead you to a river that is naturally warmed by the geothermal activity and split up into mini pools for visitors to enjoy. There are decks to leave your clothes and towels when you strip down to your bathing suit. Our snorkeling guide advised us that the later you go the better because most people go during the day. We didn't start hiking until around 9:00 pm after most of the tourists left.
The initial hill will definitely get your calves warmed up, but the setting is absolutely beautiful. You'll come across a cascading waterfall in the canyon next to the trail, steaming pools gently that are roped off along the way, and gorgeous hills that surround the main part of the warm river. We failed Hiking 101. We brought wine to enjoy as we sat in the river, but we forgot water... big mistake, I was so parched I could barely enjoy the wine.
We bathed in the river and relaxed for a bit since the sun doesn't set until 10:30 or 11:00 in the summer. We made sure to start to make our way back down before it got absolutely dark, but we ended up having to get our phone flashlights out for the last 15 minutes or so. We didn't get back to our car until around 11:30 pm.
The funniest story that came out of this hike was during our time cooking dinner in the parking lot. When we arrived, most of the real parking spots were taken because people were still enjoying the trail and cafe, so we pulled up along the left side of the dirt road. On the drivers side there was a ditch that lead to a pasture that was protected by a fence to keep the roaming horses inside. We were cooking pasta out of the back of the car when the couple that parked in front of us came back to their car to leave. I was sitting on the back bumper when suddenly I heard a loud noise and felt a big thump against the Jeep. I was imagining one of the horses charging the car... but I turned around to find the guy from the car in front of us leaning against our front tire. Apparently he was in the ditch next to our car taking a photo of the horses that were close by and when he got up he hit the fence. It turns out that it was an electric fence...so he got shocked right out of the ditch. He was so shaken up and got up to walk it off. He mumbled to us "it's plenty to scare you, but not enough to kill you." I think the fence is for the horses but it works on people too! Beware! We had to hold in our laughter until they drove away but, my gosh, too funny!
Sleep:
We rented a Jeep that we were able to sleep in. The backseat was able transform into a bed and it had a 'sleeper mode'. There was a battery that charged as we drove that powered a heating system for when the car was turned off at night. We were nervous about the size of the bed as two 6' girls, but it was actually very comfortable and we were able to fully extend our legs.
Iceland recently passed a law requiring campers to stay at actual campgrounds. However, we were told by a local that as long as we pulled off on smaller roads that we shouldn't have any problems. Since we didn't want to pay the $20/person average fee to use a campground, we just found little clearings along the way. We didn't have any issues with where we pulled over. We did meet a couple curious sheep the first night. I'd say just be mindful of your surroundings and try not to pull off too close to a campground. If you want to have access to a shower and other limited amenities that a campground offers, there are many along the way.
Like I mentioned we didn't book anything but our Jeep before arriving in Iceland, so the day before our last night we hopped onto the Airbnb app and found a place in Reykjavik. We stayed in a private bedroom in a 100 year old restored home. It was located very close to the city center, so it was great for sightseeing Reykjavik in the few hours that we had.
Eat: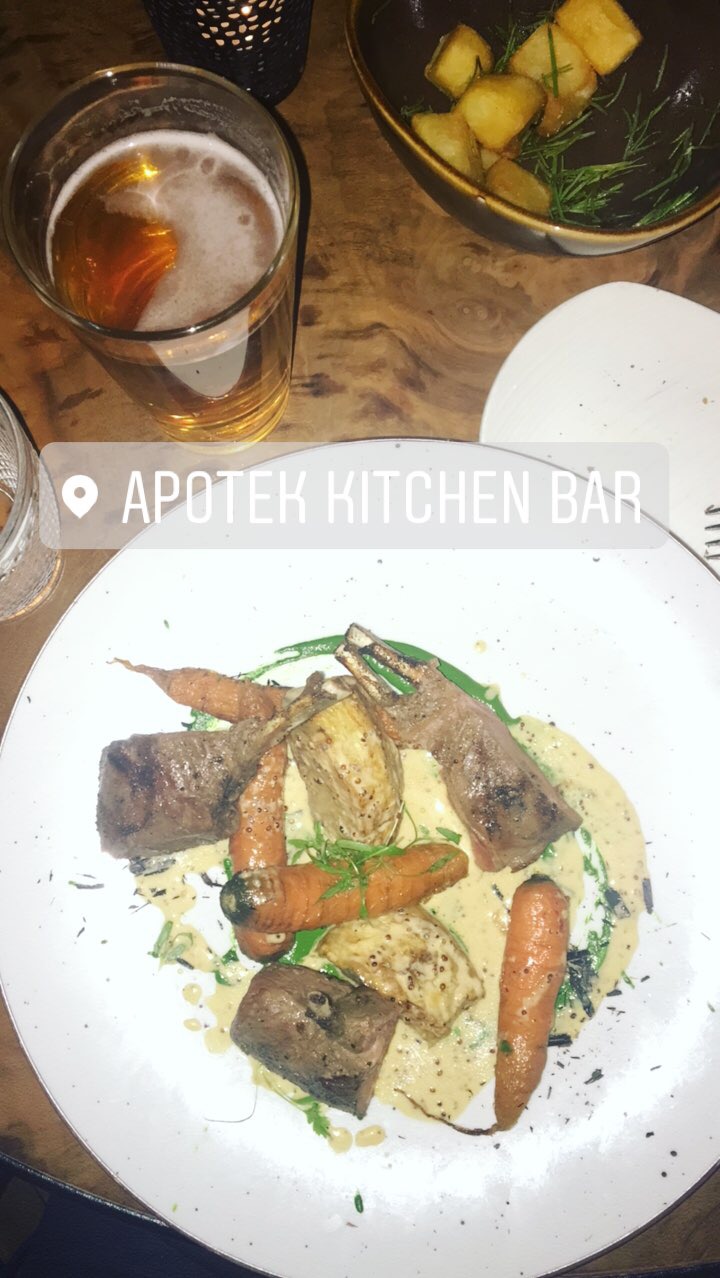 GROCERIES
We asked for directions to the closest grocery store and the gentleman that set us up with our rental car at Camper Iceland told us that Bonus is the best place to go. Bonus has a great variety of goods and it was the one thing in Iceland that wasn't that expensive. We made two stops at Bonus, one right outside the airport in Reykjanesbær and one in Akureyri, a town on the Icelandic Sea in Northern Iceland.
The most difficult thing to find was a cooler and nobody that worked at all the shops we went to seemed to know where to find one. We finally found one in a small town on our way down to Vik, but I'd recommend packing even an insulated bag to keep your groceries cool. We picked up a small shard of ice at diamond beach to throw in our cooler to keep the food cold.
We basically lived on peanut butter and jelly sandwiches, turkey and mustard sandwiches, pasta, hot dogs, cheese, crackers, and chips. Make sure you pick up a few liters of water if you'll be driving around the Island. We went through about 12 liters of water between cooking and drinking.
Also note that you can buy wine, beer and liquor duty free as you exit the airport. Otherwise you have to go to a state liquor store to shop for alcohol.
RESTAURANTS
I have to be honest here... after staying up through the night to enjoy our last evening out in Prague and then catching an early flight to Iceland, our first meal in Iceland was KFC. It was a delicious fried chicken sandwich, but totally not authentic Icelandic food. It was also $15 for a meal so right off the bat we got a taste of Iceland's prices.
Our second restaurant experience came after visiting Jökulsárlón Glacial Lagoon and the Diamond Beach on our second day. There is a quaint fishing town called Höfn about an hour further East of the lagoon. We stopped at Ishusid Pizzeria for a little snack. The Maradona, their version of buffalo chicken pizza, was delicious. They offer a unique variety of choices -- think lobster pizza, a spicy twist to Hawaiian pizza, and even a chicken pizza complete with salted peanuts. The restaurant is the result of the creativity and nostalgia of two brothers from Höfn . The name Ishusid (Íshúsið) translates to "house of ice." The location used to be a storage place for the ice blocks that were transported from the nearby glacier to cool the fish by the harbor. I love when businesses pay tribute to their local history.
During our half day in Reykjavik we stopped at Brauð & Co. for a snack as we shopped for souvenirs. This colorful, graffiti decorated house offers incredible pastries baked fresh by Icelandic hipsters in front of you. We went with the cinnamon bun and a rhubarb tart- both incredibly delicious and filling. I also don't drink coffee, but decided I was an espresso drinker on this trip... so the cinnamon bun was the perfect way to get rid of the taste of the espresso that I didn't like.
For the last night of our vacation we went to a bar for some Icelandic beer to commemorate the adventures we had. My local friend recommended Micro Bar , a great basement bar that offered a large assortment of Icelandic beer. We enjoyed a flight of five local beers and each had a pint of our favorite. From there we decided to go to Apotek, a restaurant only a few short blocks away from Micro Bar that offered Icelandic specialties such as whale, puffin, and lamb. After sitting down for dinner we decided that we weren't hungry enough for the tasting menu. My local friend boasted that Iceland has some of the best lamb, so I ordered rack of lamb. It was amazingly tender. If I go back to Iceland I'd like taste other Iceland specialties like shark and puffin.
Transportation:
When planning my trip to Iceland I decided I wanted to tack on a trip to Prague to visit an old friend who had been teaching over there. Unfortunately, the airlines that offer stopovers in Iceland didn't have routes to Prague so I ended up booking one-way tickets. While I did track the prices of flights, one-way tickets are obviously not the most economical way to travel. For those budget conscious travelers out there, who want to make mainland Europe a part of your vacation, I suggest checking the destinations that have routes through Iceland before making a decision.
We searched for the right vehicle using Turo, which is essentially Airbnb for cars. Our "host" through Turo was Camper Iceland, a small rental company close to the airport. The Jeep was in excellent condition and we had no problems with it the whole trip. It came with a camping kit that had everything we needed for sleeping and simple cooking.
The Jeep, extra insurance, extra miles and gas cost us about $925 each, so $1850 total for four nights and five days. This doubled as our place to sleep and gave us the freedom to do whatever we wanted, so while it was expensive (like everything in Iceland) we weren't spending additional money on hotels for four nights. In total we put about 2000 kilometers on the car during our trip. The basic plan came with 200 kilometers per day (1000 miles for our rental period), we opted to upgrade to unlimited miles because they charge about $2 per mile that you go over the basic allowance. Since we didn't have a plan mapped out before we got there, this was the right option for us.
Budget:
Be prepared to spend money in Iceland. I had heard Iceland was expensive, but it was never put into context for me until I got there. Filling up our jeep, which held about 85 L, cost between $80-100 each time. Two pints of beer in Reykjavik set us back about $30, while our final dinner out at a fairly nice place cost about $80/ person. Even stopping for a pizza to share during the road trip cost $30! Since the cost of living in DC is fairly high, I was expecting prices in Iceland to be only slightly higher-- that is not the case. While every penny was worth it, be forewarned that once you are there it is not a cheap adventure. I've included a high level version of my expense report below. *Keep in mind I was splitting expenses with my travel partner so expenses like the car rental, gas, groceries, and lodging were actually double*
Packing Essentials:
Patagonia Nano Puff jacket- This jacket folds into itself for easy packing. It is warm for those colder days but not too thick for the summer.
Rain Jacket- Bring something truly waterproof and quick drying. We brought North Face and Patagonia rain jackets.
Rain Pants- Be prepared for rainy weather and mist from the waterfalls.
Solid hiking shoes- Some hiking trails will recommend proper hiking shoes, take them up on their advice.
Camera- I bought a wide lens from Moment that attached to my iPhone 6. I was able to get much more of the beautiful landscape into my photos.
Day-pack- You'll want a small backpack for hiking. I have a small Osprey pack that was perfect for all of our adventures.
Insulated bag for food- If you're camping and not going into Reykjavik first, you'll want to bring something to keep your food cold. We had trouble finding a cooler near the airport.
Phone Plan- At the time of this trip my provider had 3 different travel plan options. The one I decided to purchase allowed me to use my phone like normal, even though I was abroad for $10/day. There were other less expensive options. If you plan to use any cellular data or make phone calls while you're traveling in different countries make sure to call your provider to let them know, otherwise your phone won't work unless it is on wifi.
When I Go Back:
The next time I make a trip to Iceland I would like to go in the winter months to see all that the country has to offer in a different season. Bucket-list items for when I return: Glacier hike, Blue Lagoon, see the northern lights, go whale watching, more hiking, spend more time in Reyjkavik.
Please feel free to ask questions or leave comments about your experience in Iceland! I'd love to hear from you!